01
Carcass Panel System
Prefabricated Buildings consist of panels with a width of 125 cm and a height of 250 cm, 280 cm or 300 cm as standard. C and U steel profile sections and steel carcass are formed on these panels in rollform machines. The interior of this carcass structure wall is filled with rock wool insulation or eps insulation materials and both sides are covered with cement-based chipboard.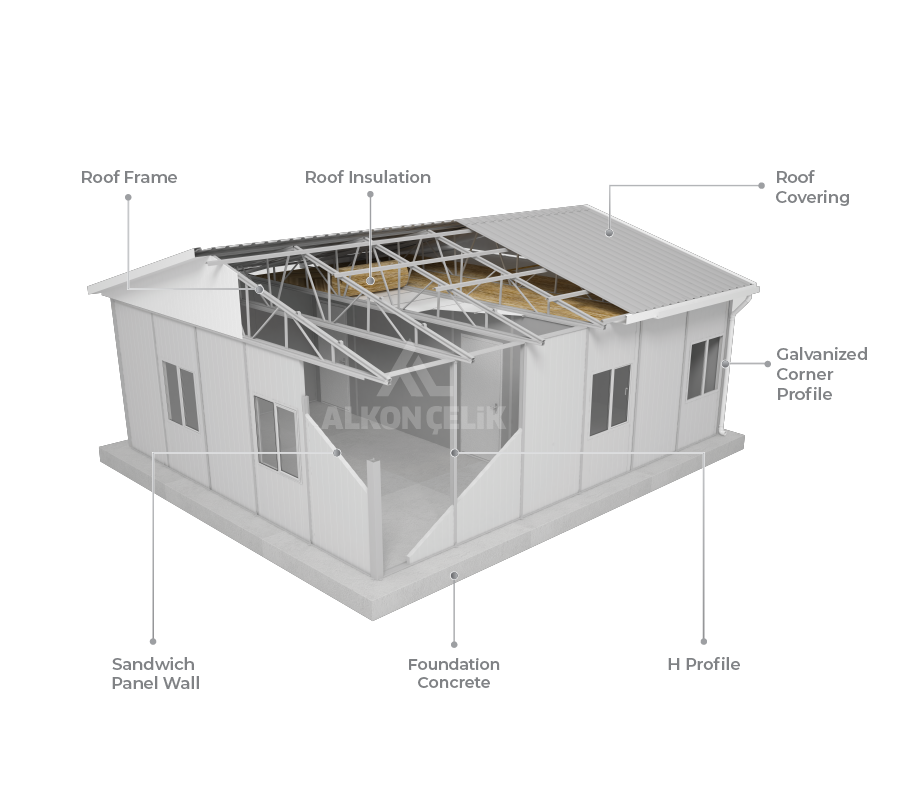 02
Sandwich Panel System
Sandwich panels are a building material consisting of roof or facade panels produced by applying polyurethane, rock wool or EPS insulation materials of various thicknesses and densities between painted galvanized sheets on both sides.
In sandwich panels, the sheets on both surfaces are painted with coil coating technology. Thanks to this painting technology, it can withstand corrosion for many years. It has an aesthetic appearance.
Although it is generally preferred in cold climates due to its insulation properties, it is a building system applied in buildings in all regions.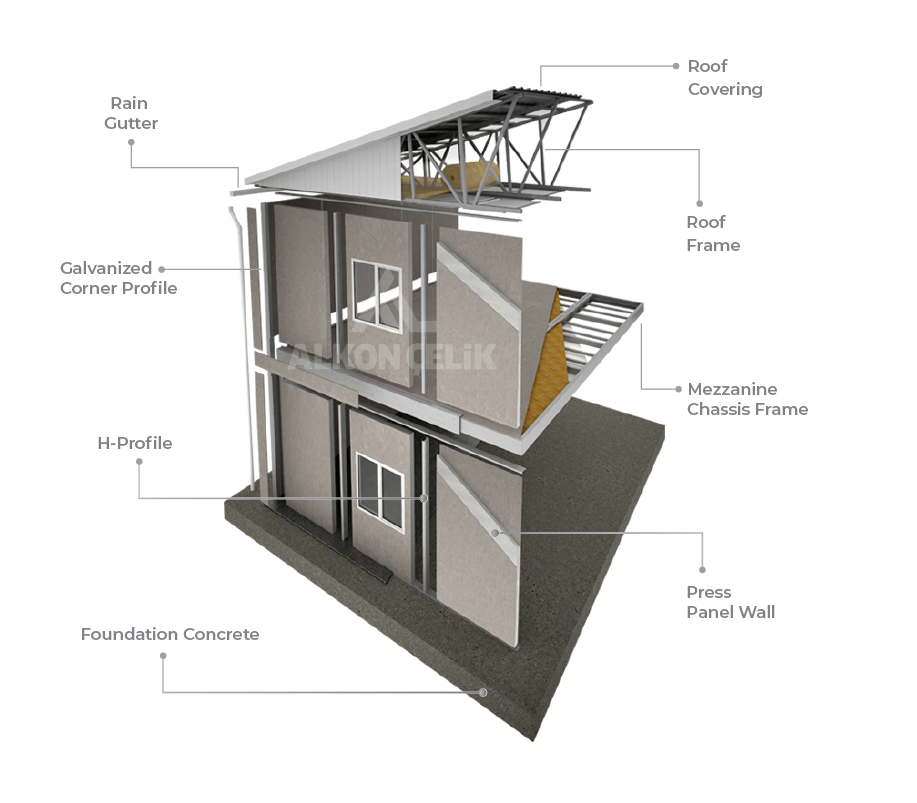 03
Press Panel System
Press panels consist of 125 cm wide and 250 cm, 280 cm or 300 cm high panels as standard. Insulation material in these panels is provided with 16 kg / m³ density polystyrene foam (eps). Polystyrene foam is prepared in the same size as the sheets on the outer layer and combined by holding it under a press.
These panels are resistant to natural conditions, without affecting by water, moisture and heat and can be painted. They are aesthetic building technology product that can be used for many years.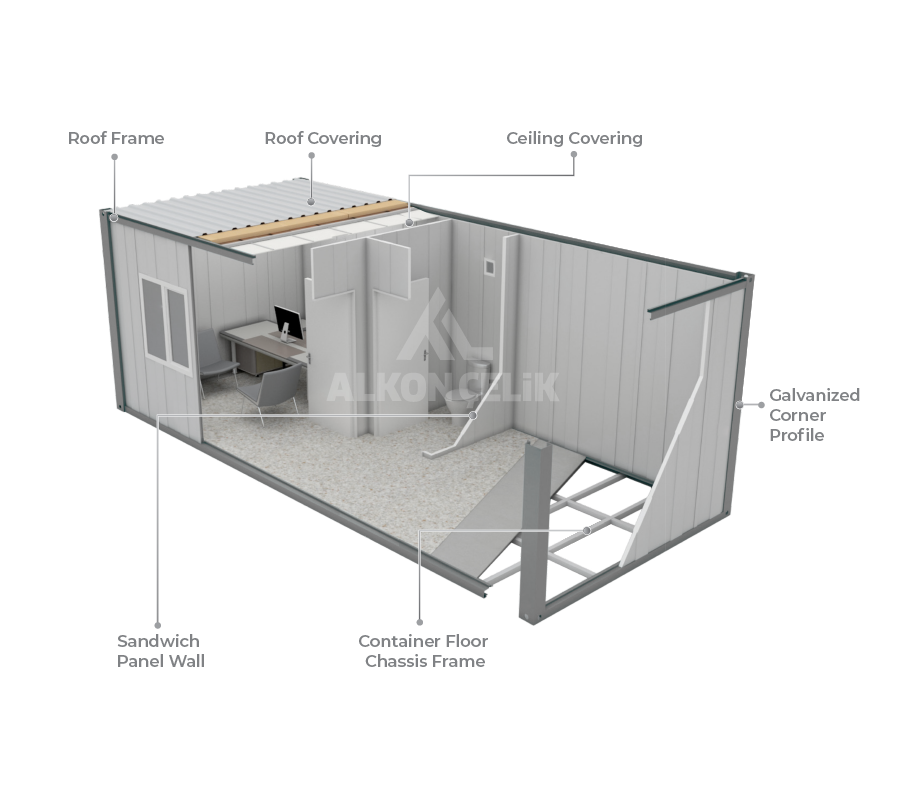 04
Containerized Structure System
They are ready-made structures consisting of a floor platform, carrier corner profiles and roof construction using galvanized steel special profiles. The walls are formed from sandwich panels and all the elements are joined and fixed with bolts and nuts.
Container building system is modular structures that can be prepared as fully installed in the factory and shipped to the place where it will be installed. For overseas shipments, it can also be produced and shipped as flat-pack in order to provide transportation advantage.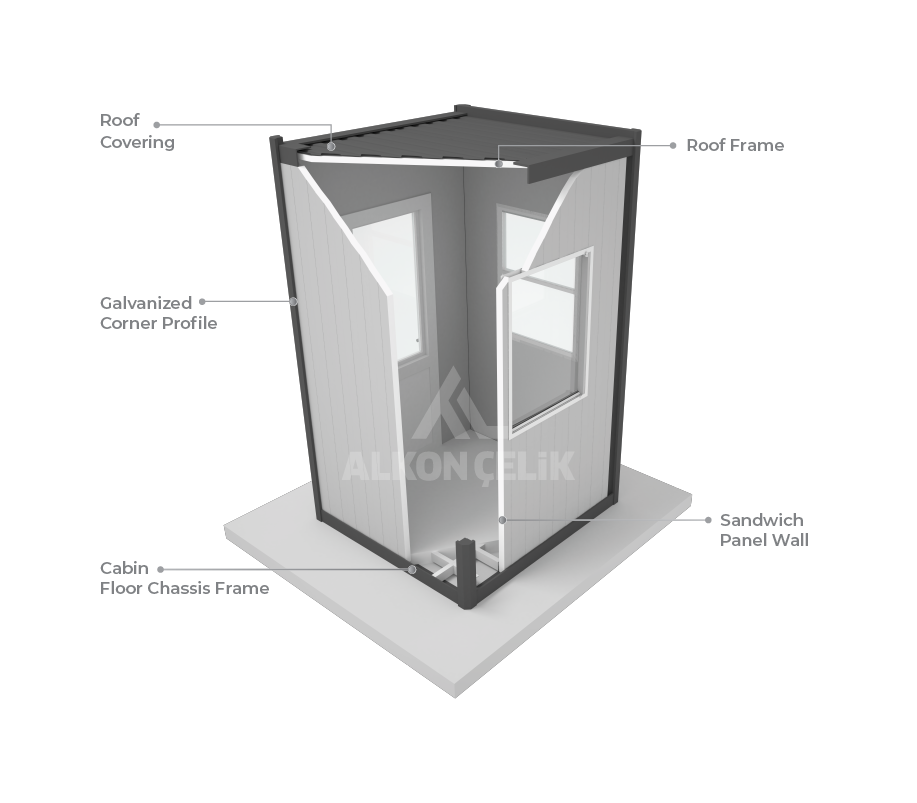 05
Cabin Structure System
Cabin structures are insulated and ready-to-use structures built on a chassis platform made of galvanized steel, used for purposes such as security cabin, parking lot payment point, buffet, taxi stand. Building roof structures are also produced from galvanized steel. Walls can be sandwich panels, press panels or cement-based chipboards over steel carcass. Doors and windows are shipped as assembled on the building.
The need for physical structure, which is necessary to organize and facilitate city life, is met with cabin structure systems.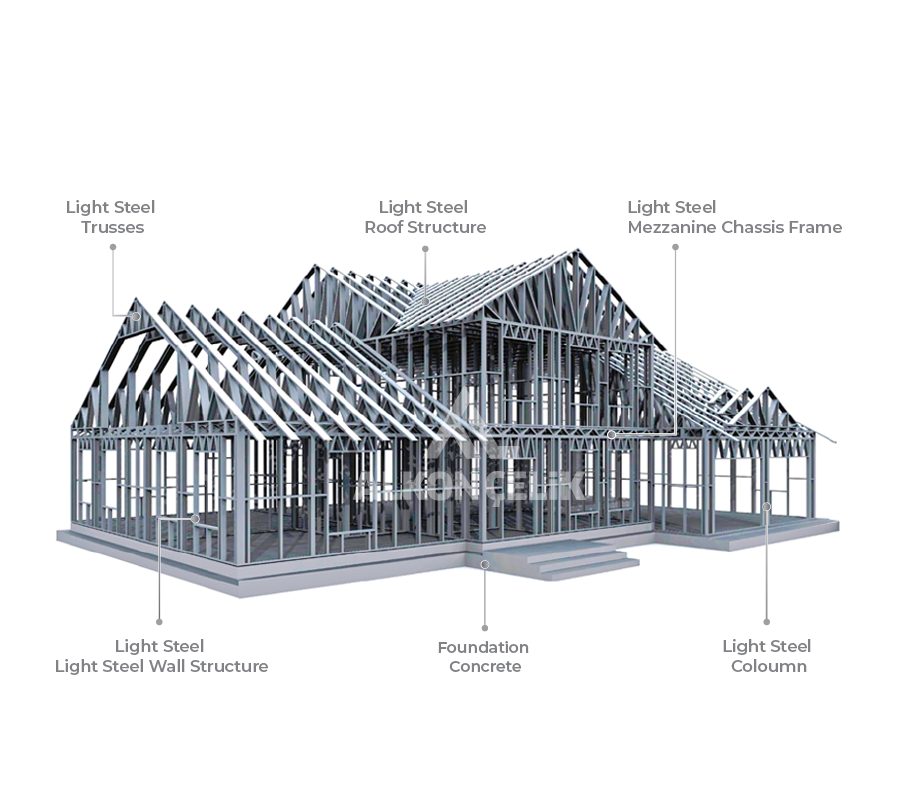 06
Light Gauge Steel Structure System
The frame structures of light gauge steel buildings are created with the structural profiles obtained by taking the shape of galvanized sheet strips in rollform machines. While the exterior of this carcass structure is covered with cement-based chipboard, the gap between the profiles is filled with insulation material. All electrical and mechanical installations are mounted in the wall as much as possible at this stage. Its interior is covered with plasterboard sheets. This building is the preferred building system because it is the best alternative to reinforced concrete buildings, with high living comfort, flexible, architectural aesthetics.
07
Industrial Structural Steel System
The industrial structural steel system consists of structural steel materials used in the installation of industrial facilities such as warehouses, hangars, factories, pipe-rack structures. Structural steel materials are prepared with Alkon Steel quality with pre-production as structural elements such as column-beam, chassis, up to the joints in the factory. Structures produced in accordance with the project are installed on site and delivered to the project owner.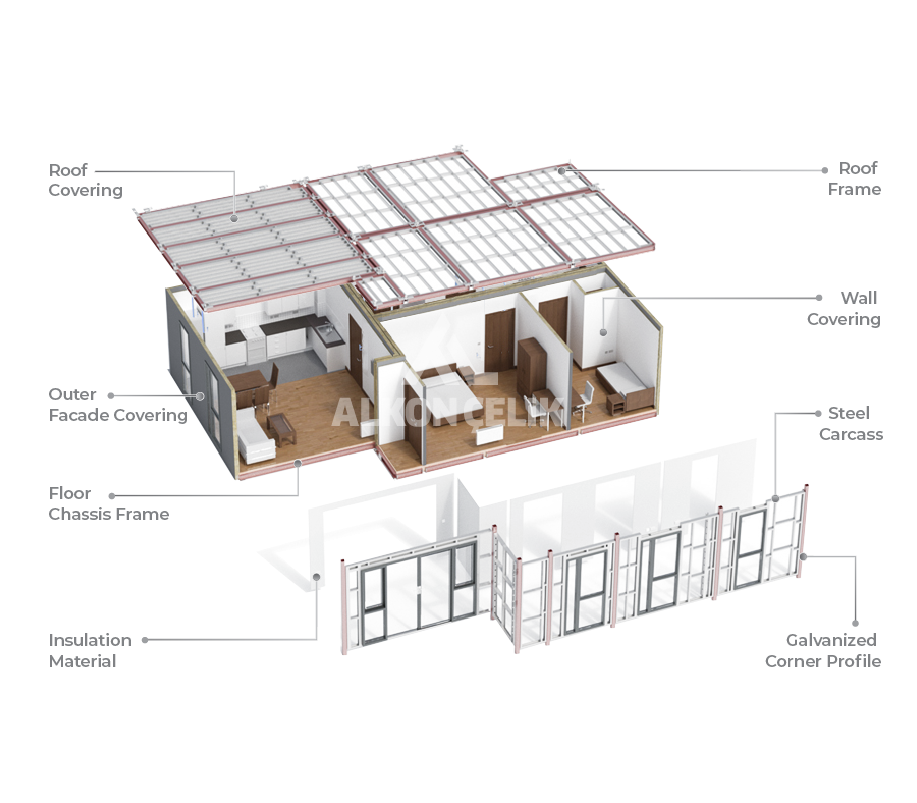 08
Modular Structures Steel System
Module Structures are steel structures which prioritize architectural elegance that can be produced in ready-made modules from the factory and shipped to your land or site. It can be produced as a small house style as a single module, or larger living spaces can be created with the combination of multiple modules.
Due to the structure of the buildings, it can be produced in different options suitable for the user's taste by providing the opportunity to choose both the coating appearance and the colour on the facade.
With its quality and experience, Alkon Çelik completes the requested building projects in a short time.