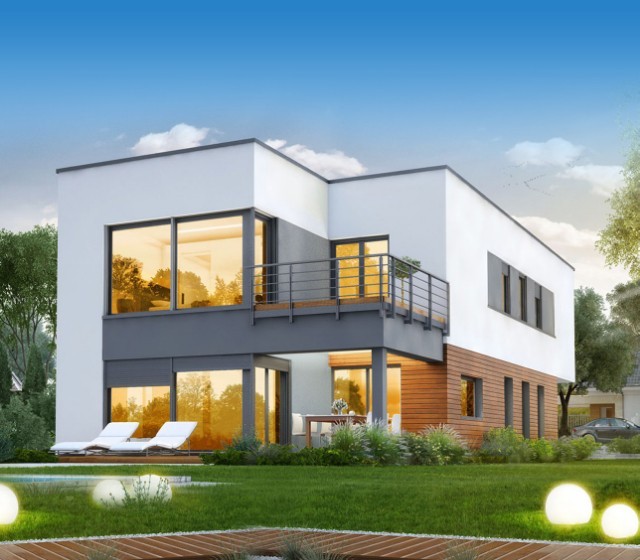 01
Prefabricated and Steel Houses
Prefabricated and Steel houses are prefabricated structures that can be produced in a shorter time and can be assembled faster compared to conventional structures. So the construction costs are lower, yet they are structures with high material quality.
Prefabricated and Steel buildings provide the most cost-effective and fastest solution to meet the increasing housing need of the world, while population is constantly increasing. They are housing types that offer flexible solutions thanks to their applicability in different geographies.
The construction materials of these houses are much more environmentally and human-friendly compared to conventional concrete buildings. In this way, it provides the opportunity to live a healthy life in harmony with the nature we are in.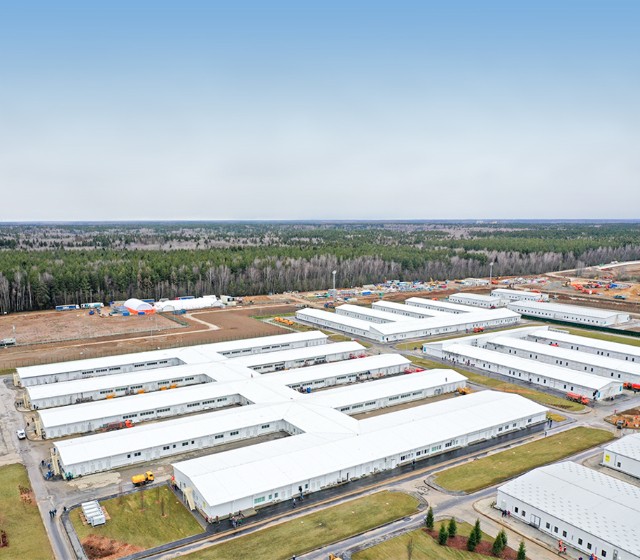 02
Light Gauge Steel Structures
Light gauge steel (LGS) structures are the best alternative to conventional reinforced concrete structures. LGS buildings have the characteristic of being modern and useful with both the wall types and finishes that are the result of their structural details. On the other hand the interior architectural design offers spacious spaces.
In LGS, the building framework is made of light steel. The heat insulation, sound insulation and waterproofing create a safe area against natural disasters such as earthquakes, while providing protection for life in every season against external factors.
While these structures catch the age with their modern architectural lines, they reflect the sincerity of the usual with their traditional lines.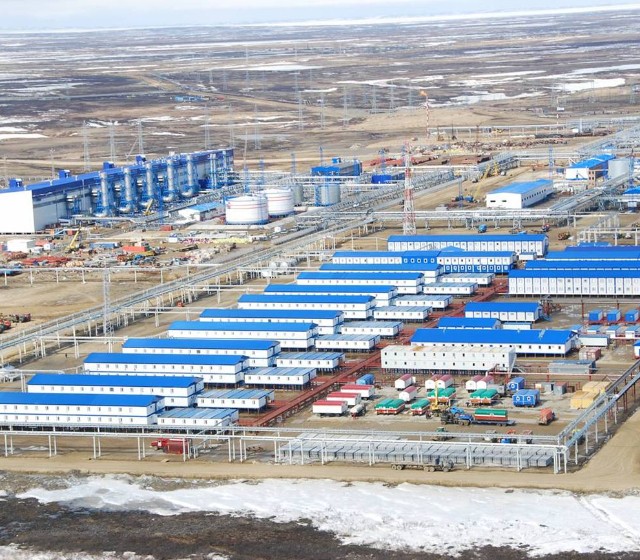 03
Construction Sites and Camp Buildings
Construction sites and camp structures as pre-produced structure that can be easily shipped and can be easily installed on site all over the world; It enables the creation of living spaces of a certain standard for employees in all projects, especially in the energy, construction and mining sectors. Thanks to these structures, teams can find the opportunity to work in the field and they can realize the investments made for the advancement and development of humanity. Construction site and camp structures can consist of prefabricated buildings and container buildings.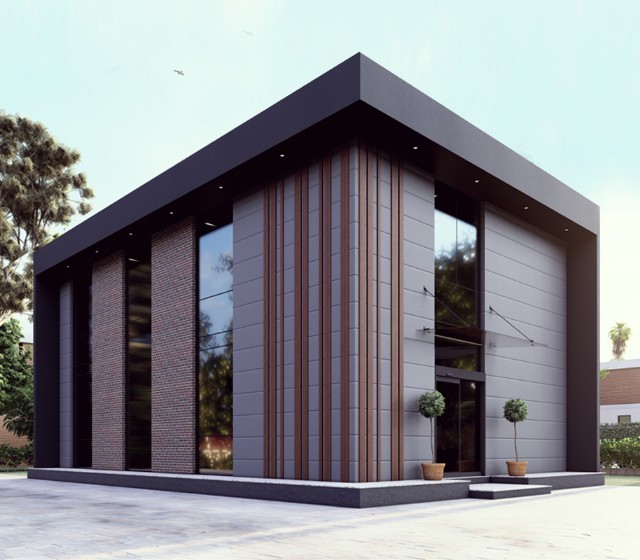 04
Office and Administration Buildings
Office and administration buildings are planned and built according to the requirements for the functioning of the works and the needs of the employees in management in order to manage the projects. These buildings can be used as management buildings in construction sites, as well as temporary purpose buildings such as project offices in cities or permanent purpose buildings such as clinics.
These buildings can be standard prefabricated buildings, as well as light gauge steel, structural steel or hybrid production models.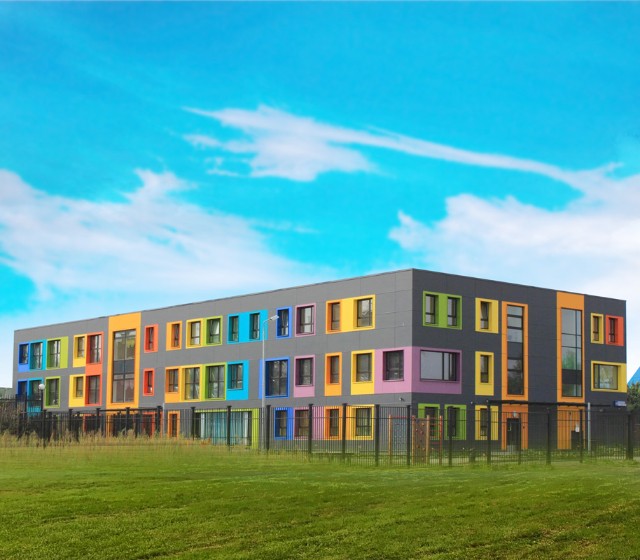 05
Education Buildings
In education, if there is a fast, flexible and safe building need, the best solution can be prefabricated building and light gauge steel building. These buildings are architecturally aesthetic as they protect both students and teachers from external weather factors in all climates.
With these buildings that can provide the fastest response to the increasing classroom needs of cities, there will be no residential areas without a school. There are building types that can meet the needs of all education life from kindergarten to university.
In order to continue education after a natural disaster, these buildings are the fastest and most economical option.
Health and safety training of the personnel in construction sites is also done in these buildings.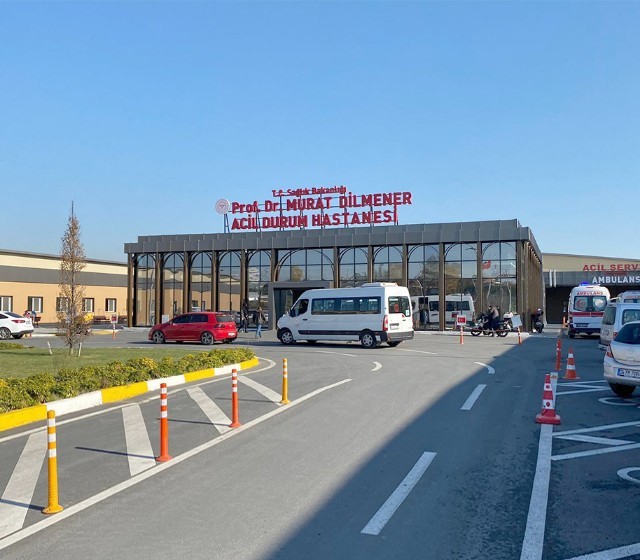 06
Health Buildings
It became easier for people to access healthcare services with these buildings in every region needed. The establishment of buildings that are easily accessible to every neighbourhood in the cities and every residential unit in the countryside, acclimatise all conditions. These buildings have also increased the comfort of healthcare professionals and enabled them to provide better service.
Thanks to these structures, new health needs in the changing world conditions can be met immediately.
As a result of the latest developments in the world, all countries have requested the establishment of new emergency hospitals or additional buildings of existing hospitals with prefabricated or light gauge steel buildings in a limited time frame. Thanks to the advantage of this, it is made possible for the public to receive inpatient treatment and to store the medicines they need. In the near future, these buildings continue to meet the needs for the logistics and implementation stages of vaccine organizations.
07
Military Buildings
They are steel buildings that increase military operation capability and reduce security risks for the security of countries. These buildings can be established in any geography and in any climatic conditions. The buildings serve both as a logistics center and as a base or border post or police station to ensure security.
All kinds of accommodation, catering, toilet, shower, infirmary and recreation needs of the soldiers living in these buildings can be met.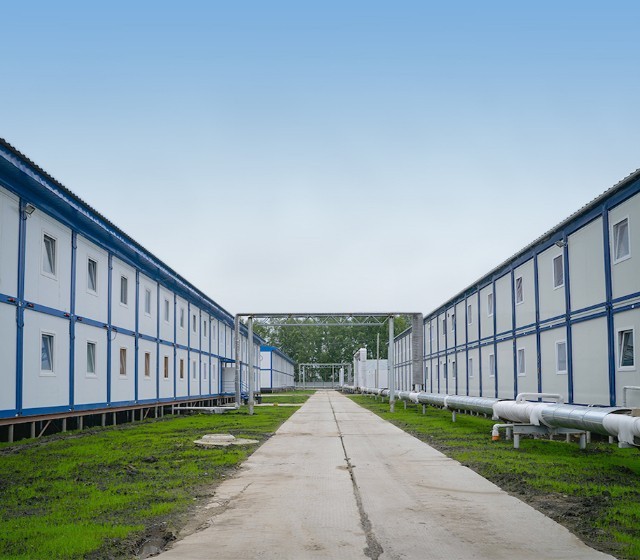 08
Containerized Buildings
Containerized modular buildings are the most effective solutions to meet both individual and social needs. Containerized modular buildings can be used as independent containers of 2.40x6.00 meters or 3.00x7.00 meters, or can be unified of multiple containers.
With these buildings, camp sites can be established, emergency shelter needs that arise immediately after natural disasters or wars can be met quickly, houses can be built in combination, individual vineyards-garden houses can be done, WC-shower buildings can be set on site rapidly and healthily in showground areas, office and school building solutions can be procured.
Although containerized modular buildings are usually shipped with each unit assembled for quick field service, they can also be shipped to the site as disassembled.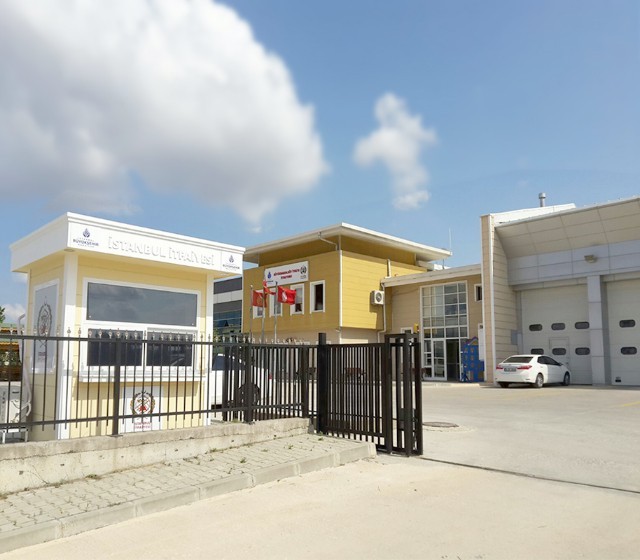 09
Security Cabins
Security cabins, as an element of city life, are produced for the security needs arising in building complexes, private properties, schools, factory sites and storage areas. These cabins increase both the productivity and the quality of work of the security personnel with the opportunity of insulation they offer.
Safety cabinets are shipped to the field as pre-manufactured.
These cabins can be produced as standard from sandwich panels or they can be built as modern structures that offer added value and in harmony with the environment they are located in.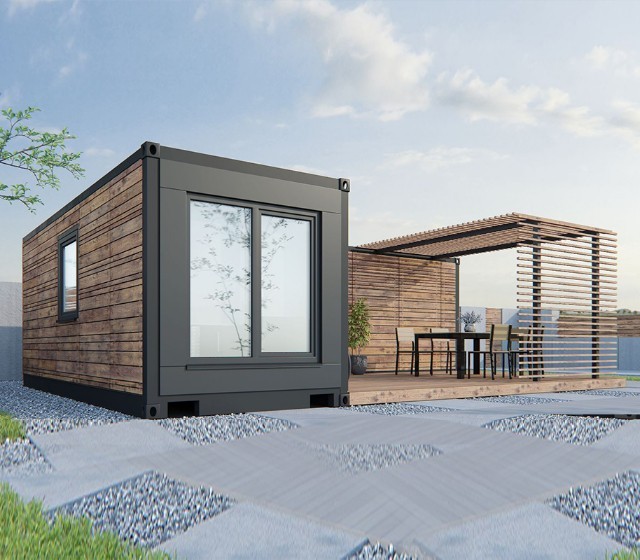 10
Modular Buildings
Module Buildings give an opportunity to take the comfortable life you are used to wherever you want. With the module buildings, you can find the opportunity to experience comfort and aesthetics in nature, in the countryside, on the seaside, in the upland, in the city, that means wherever you want.
These buildings are produced in ready-made modules from the factory and shipped to your land or site. It can be produced as a single module small house, or larger residences and living spaces can be created with the combination of multiple modules.
Module Buildings are ideal for users with modern architectural tastes, who prioritize architectural elegance rather than industrial appearance. Due to the structure of the buildings, different alternatives can be produced on the exterior, both in coating appearance and in colours, in accordance with the user's taste.